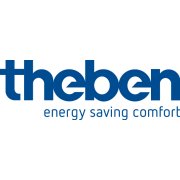 Theben is a world leading manufacturer of Time control, Lighting control, Home and Building control, Climate control, among other devices. The company was founded in 1921, in the city of Stuttgart, pioneering in timing and energy savings. Since founding the company, over 90 years ago, this family business has become an international company with 550 employees in Germany, five branches in Europe and more than 50 subsidiaries worldwide. They are the technological leaders in the areas of Automation and Control, an active member in many industry associations, such as KNX and OpenTherm.

As a market leader, Theben is committed to the quality of their products. All their products go through a testing laboratory approved by the VDE Institute and are examined from initial conception to final production. This whole process is to ensure that their products undergo a rigorous period of tests and checks to confirm their quality and life expectancy in all its range of products. As proof of the quality of Theben's manufacturing process, several products in Theben's range have expanded warranties for up to five years.

Theben's main product lines:
Time control: A wide range of daily, weekly or yearly time switches, as well as the product that gave birth to the company, the automatic staircase analog switch.
Lighting control: Constant technological innovation makes Theben a pioneer in motion and presence detectors, it also carries in its catalog a wide range of Twilight sensors.
Temperature control: A huge variety of analog and digital thermostats, as well as temperature sensors.
Home automation systems: Whether it's KNX or Theben's own proprietary systems (such as Luxor or Pharao), Theben is at the forefront of new technologies in automation and building management.




THEBEN 2020 Catálogo




THEBEN SIMPLEXA GB 2020




THEBEN Product Spring 2020




THEBEN Product Autumn 2019




THEBEN Product Spring 2019




THEBEN TC649 Control Box




Theben theLeda B Led spotlight




Theben LED spotlight with motion detector theLeda S




THEBEN Catalogue and Pricelist 2019




Flyer Theben Presence + Motion-detectors




Theben KNX-control




Brochure theLedaP




Top3_FLY_DIN




theLeda P_PT




THEBEN PlanoSpot KNX




BASE DADOS KNX




THEBEN Magazine Issue 1




THEBEN LED Brochure A4




Brochure theLuxa n thePrema GB




Brochure LUXA LED projectors




Brochure Efficiency GB




Brochure Architects PLAN CENTER 100 m2




Manual EN TR top2 range THEBEN