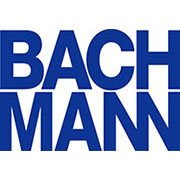 Bachmann offers efficient solutions for electrification and managing structured networks. Its range is divided into three areas of interest.

Electrification and network solutions for workplace: Electrification in work tables, offices, conference rooms and class rooms with innovative solutions and high quality. Pre-assembled bases with sockets and also open modules spaces for the installation of various data modules (HDMI, VGA, RJ45, USB, Sound, among others), completely customizable depending on customer's needs and with a simple and quick installation.

Power strips for IT management: 19" power strips, with integrated protection functions and customized to the client's needs. BlueNet strips which combine electrical outlets with control and monitoring of energy consumption, locally or remotely (via PC, Smartphone or tablet).

Electrical equipment: All the electrical equipment that an installer may need, Extensions and Power strips, reels, assorted electrical Cables, Plugs and Sockets, LED Lamps, Lanterns, and other switches.



BACHMANN Complete Catalogue 2019




FACILITY SOLUTIONS




BACHMANN NEXT GENERATION OFFICE




BACHMANN INNOVATION 2020




Flyer DESK RAIL




Flyer MINI PIX




Flyer PEGGY




BACHMANN HOTELS 2017




BACHMANN IT_Power_GB




BACHMANN VENID GB




BACHMANN News 2016 17




Catalogue IT BlueNet Es 2016




BACHMANN IT POWER SOLUTIONS 2015 2016




New brochure POWER FRAME 6X GB




Catálogo FACILITY 2013




Brochure TWIST GB




Brochure SYSTEMS Cuisines




Leaflet assembly unit TWIST




Flyer range BlueNET




Flyer range LAN Light




Flyer Qinside 2013




Flyer saving energy




Brochure dimensions of boxes BACHMANN